The Payment Services Directive was introduced in 2007 to create a single market for payments within the European Union. This framework used for payment transfers, also paved the way for the Single Euro Payments Area (SEPA)
THE SECOND DIRECTIVE
AS FROM 13TH JANUARY 2018, THE PSD2 CAME INTO EFFECT TO BETTER PROTECT CONSUMERS FROM RISK OF FRAUD, PAYMENT INCIDENTS, SAFEGUARD INDIVIDUALS' FINANCIAL DATA AND PROVIDE A MORE STANDARD TECHNICAL INTERFACE IN PAYMENTS THEMSELVES
1. Customers now have an acknowledgement of new companies which have access to their financial accounts. Through a consent mechanism, Access to Account (XS2A) allows companies to have access and make payments on behalf of customers. The institution holding the customer's balance would provide an Application Programming Interface (API) so that information exchange can occur.

2. Improved security through better authentication mechanisms using strong Customer Authentication (SCA). This technology requires two or more of the following
a. For example, knowledge of password or PIN
b. Possession of an object that user owns for example mobile or secure key
c. User recognition such as fingerprint and face
d. Unique authentication code
3. Improved Geographical reach to provide customers with better information and protect customers further.

4. Reduction of fees for payments / unauthorised transactions and further rights to customers for direct debit mandates.
Who is affected by the Directive?
Whilst PSD2 majorly involves banks, other companies in the payment services industry are also affected. All companies must seek consumer consent prior to fund transfer.
Our partners,  Silicon Valley, US-based company, Fiorano, was founded in 1995 as the primary providers of integration middleware software. Trusted by companies such as Morgan Stanley, Barclays, the Royal Bank of Scotland and Federal Bank amongst others, Fiorano boasts over 600 global customers and implementations.
The PSD2 Accelerator developed by Fiorano is designed for banks looking to fast track their PSD2 implementation. Fiorano provides software with a robust and reliable implementation framework, while retaining high performance.
Comprising of 16 technology modules stacked together, the interface supports Access to Account (XS2A), Strong Customer Authentication (SCA) and Common and Secure Channels of Communication (CSC).
The implementation methodology employed by Fiorano ensures that the compliance process is simplified as much as possible and offers various options to integrate either directly with core banking APIs, make use of cloud aggregators or bespoke technology products from your current setup.
Out-of-the-Box, Fiorano comes pre-configured with all that credit institutions are expected to publish ASPSP interfaces and TPP sandboxes in the PSD2 specific format.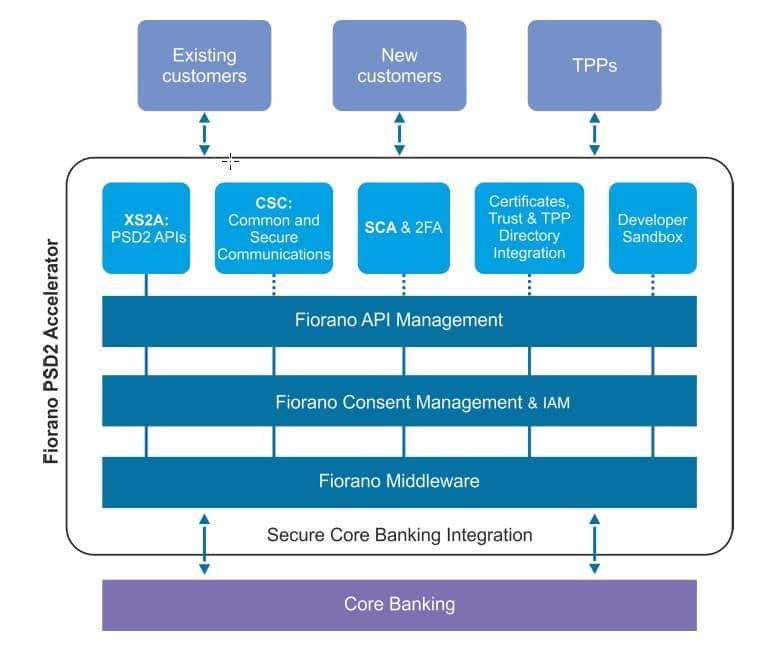 TALK TO US
Would you like to receive more information on the technical specifications of the product or a more detailed explanation on how the solution works to help improve the business processes of your regulatory division?
Contact one of our representatives for an appointment and we will be more than happy to answer any questions you may have. 
TALK TO US